Every year I set goals.  I am a firm believer in setting goals in what I call the 3Pillars of Life: Mind, Body, and Soul.  We are not beings with one aspect to us. We are complex and with complexity, there has to be a way to unify our being, make us whole.  The 3Pillars are what I believe a foundation for holistic living. So I set goals every year in each of the 3Pillars and pursue them.
One of my physical goals this year (2019) was to compete in the COGGS Enduro Race Series. An Enduro Race is a multi-stage mountain bike race. This summer there were to be six (6) races and I was excited! I rode my bike early in "spring" when there was still snow on the ground. Just some gravel road rides that would get me ready.
The first race of the season was coming up and the trail was posted so I went to scout it and get a test ride in on Hawks Ridge in Duluth.  During the test ride, I was injured. I was bummed but in my mind, I was thinking; "It's OK. No big deal. There's always the next race."
COGGS is a volunteer-run organization, so the next best thing to racing is giving my time.  Being near the action. So I volunteered and I had an amazing time being around the riders… 
Time for race #2 was approaching and I was contacted by COGGS to see if I could help out again.  I was happy to. After all, there would be an opportunity for me to compete. Then race three and four came and went with me volunteering.  The fifth race I was not available to help or compete.
Race 6 was circled on my calendar. It would be held at Mission Creek! I was a bit concerned because it was going to be tight if I was going to make the registration deadline. But, I made it and was registered for my first Enduro! We got instructions and started to peddle uphill to the start of Stage 1. I'm waiting in line talking with other riders and having a good time. Met a couple that had moved to Duluth from Colorado just a couple weeks earlier. Mountain Biking is such an amazing community to be part of. Everyone out to have a good time and help each other.
The format is one rider released down the trail every 30 seconds.  I was towards the back due to the late registration time. I was two riders from the front and my mind started having second thoughts.  My mouth was watering and I had butterflies in my stomach.  
One rider from the front and my brain said, "Are we really going to do this?! I don't think this is a good idea!"
I'm up next and before I can think about what is going on the timer says "GO!"
In the first 100 yards, my mind, and body called me to quit. "Just stop, just quit right now. It's going to be fine. Self-preservation is good." I was feeling nauseous and hyperventilating; my legs were shaking, bile in my mouth which is oddly dry now.
Brain on over-drive – Jason! Just stop peddling!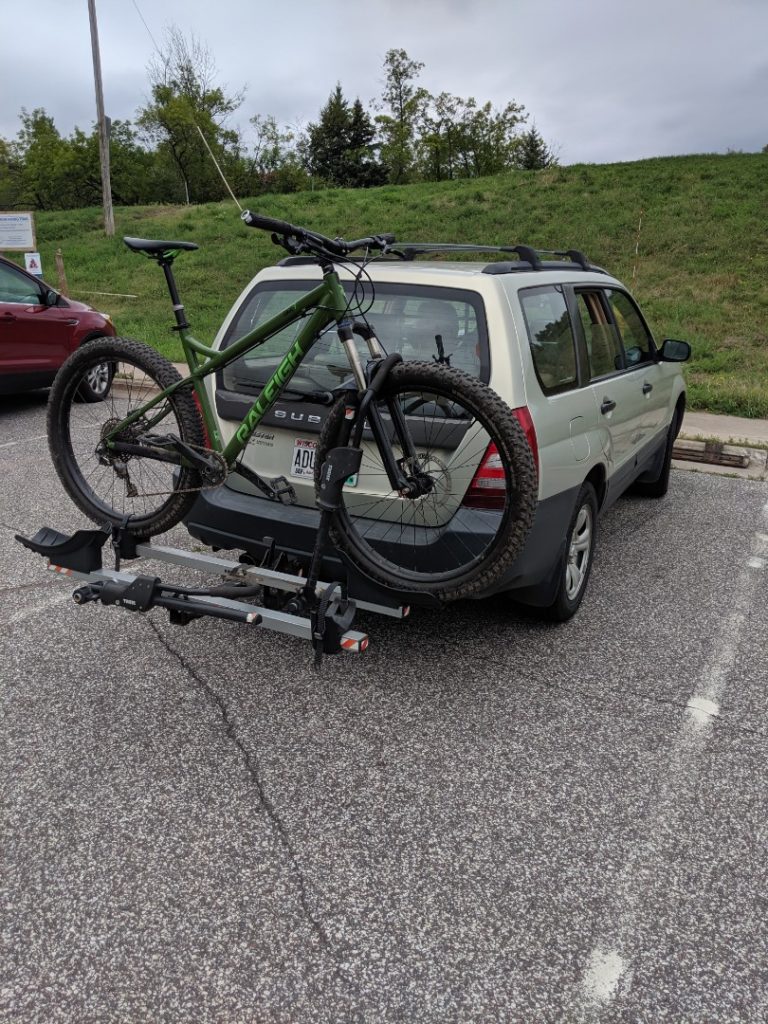 I cross the finish line. Stage 1 is done. There is now a ride out to the registration area which was another mile or so. All the way down I was having an argument with myself. The conversation had phrases like: "Just quit, no one will know." "You can't quit, you don't let your kids quit." "Fake an injury." "You can't lie to your family and friends about this."
While this internal dialogue was going on, I came out at the registration area and realized I had to peddle back to the top for Stage 2.
Still feeling nauseous & queasy, I remembered a phrase we taught our girls – Do Hard Things. They despise that phrase, at that moment I did too. What a dumb phrase! Do Hard Things, do the things that are outside of your comfort zone I told them. Do Things that make you uncomfortable. Strive for more, strive to be more.
Back to the top, I peddle. The whole time gaining strength from this phrase I now despise. The journey to the top for stage 2 is a conversation I'll remember. But it's for me and I'm not going to share it. I started and completed stage 2. I finished the race. I competed in the Enduro! There were 37 male riders; I finished 36th.  I was stoked! I was elated! My goal was complete.
In life, we set goals to GROW! To grow we challenge ourselves. To challenge ourselves we Do Hard Things.  It doesn't matter if we are racing an Enduro, a triathlon or confronting our boss, our kids or any number of things. When we set out to do things that challenge us, we are going to have moments of doubt.
Remember, I set out to do an Enduro as a physical goal, and it was challenging. What I didn't realize was my own mind would be my greatest battle. Challenge yourself, set some goals, pursue those goals so you can grow. When the time comes to do hard things… you got this.